Cuisine in Zell am See
Breakfast & half board
Culinary indulgence is included as part of the hospitality we offer in our hotel. Our healthy buffet breakfast with fresh fruit and delicious cereals, wonderful egg dishes and speciality cheeses and sausages from the region, a wide selection of breads and home-made jams, provide a great start to your day. In the evening our hotel chef creates a delicious 4-course indulgent menu for you himself – substantial and of the best quality, using regional produce from 'Genussregion Salzburg'! It is also worth taking a look at the latest wine list, where you will come across a few fine wines from both Austrian and international cellars. We also keep in mind our guests' specific nutritional needs. Should you be intolerant to specific foods, are vegetarian or vegan, then let us know in good time when you are making your booking. After your evening meal, bring the day to a close in our lobby and bar area and enjoy our eternal flame fire.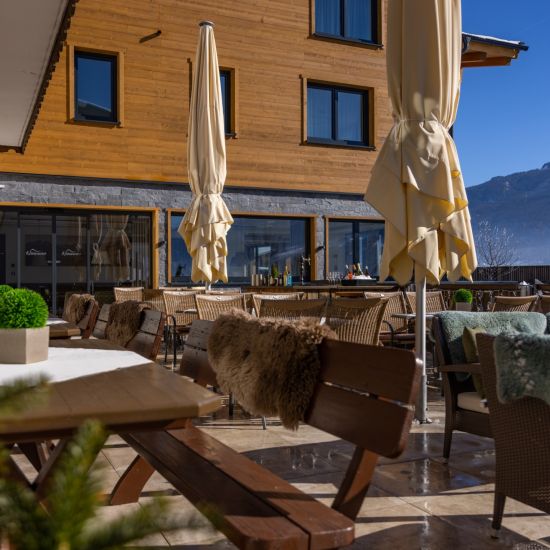 Where good moods meet – our terrace!
Our large sun terrace with panorama views is a popular place to enjoy a coffee and Sissi's apple strudel in the afternoon, or review the day over a nice glass of wine. Enjoy wonderful food in our cosy guest snug.
Extensive - Regional - Sweet - Savoury
Our meals served from early to late are for the most part made using produce from the region. From traditional dishes such as "Kasnockn" (cheese dumplings) and 'Kaiserschmarren' (sweet pancakes) to 'Schnitzel' (escalopes) and vegetarian specialities, we provide real treats for your palate. Begin your day packed with energy after a healthy breakfast (7:00 - 10:00) and be indulged during your evening meal (18:00-19:30) with a 4-course menu.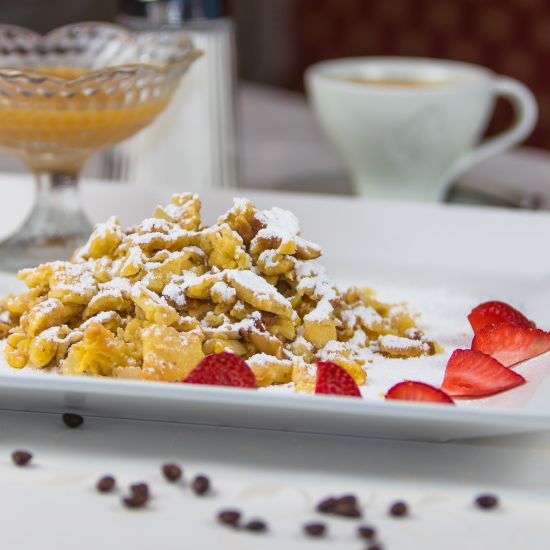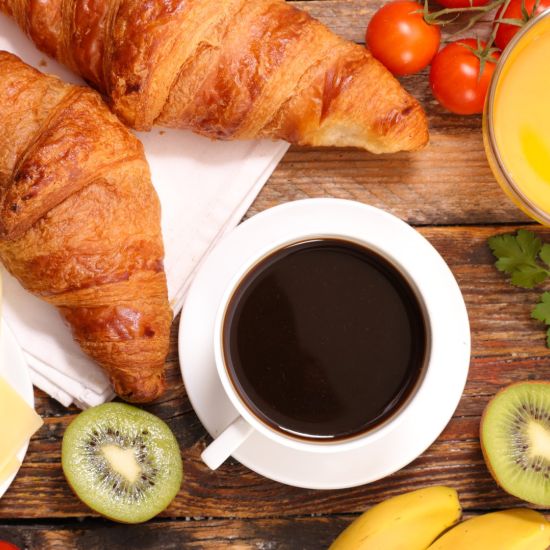 Sustainability is important to us!
Our guests benefit in many ways from this protected and sheltered way of life - they can experience nature with all their senses. This extends to our regional cuisine, which is characterized by simple recipes, healthy ingredients and fresh preparation. Enjoy local and international specialties created with natural products from the region. Strengthen yourself after an extensive bike or hiking tour with the delicacies of the regional cuisine.
We wish you a good appetite!