Winter hiking & snowshoeing
Hiking in the snow in Zell am See-Kaprun
In winter, indulge in nature or go snowshoeing or winter hiking between glaciers, mountains and lakes. Whether on a guided tour or alone, here you can experience the winter landscape at its most beautiful. In winter, snowshoes are best tied to your feet when the snow falls from the sky and turns the Pinzgau into a snow-covered landscape. In summer, a large number of well-known hiking trails cross, while in winter the paths often have to be found first. Of course, the whole thing looks different on many well-maintained walking or winter hiking trails. The winter service ensures clear conditions there. A robust winter shoe with thick padding and non-slip soles remains an advantage.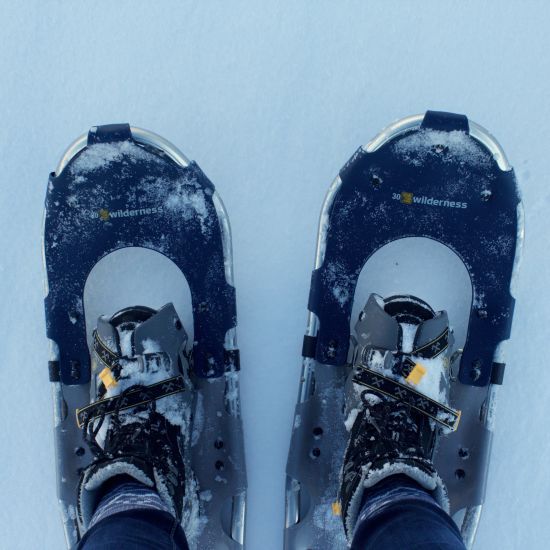 Hiking in the snow in the Zell am See-Kaprun region
Many wonderful winter hiking trails await you around Lake Zell. Various footpaths lead through the places around the lake and lead you into the cold nature. If you want to climb higher and enjoy the view of the city and lake, you can climb the sunny slopes around the Enzianhütte in Ronachkopf or Mitterberg. In the Schmittenhöhe, you take the cable car up the mountain to start your winter high-altitude hike. Along the sun promenade between Hochzelleralm and Sonnkogelbahn or around the Plettsaukopf reservoir. There you can enjoy a breathtaking view of the valley and Lake Zell. There are leisurely circular hiking trails in Kaprun, on the Kapruner Moos, through the forest of Filzmoos, along the Salzach and other beautiful country trails. The ICE CAMP TRAIL on the Kitzsteinhorn is also spectacular and breathtaking. From mid-January to mid-April, the enchanting ICE CAMP awaits at the end of the trail – an igloo world made entirely of snow and ice.
Top 10 winter & snowshoe hikes
Sonnkogel Schmitten - 2.2 km  | 142 am

Köhlergrabenpromenade - 1.5 km | 171 am

Dr. Müller Promenade - 1.0 km | 104 am

Bruckbergweg - 2.2 km | 276 am

Golfplatzrunde - 3.8 km | 9 am

Rundwanderweg Plettsaukopf - 2.2 km | 47 am

Seepromenade - 5.4 km | 83 am

Großenralweg - 4.2 km | 149 am

Salzachweg - 5.3 km | 19 am